Leaning In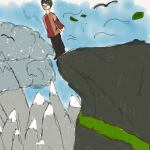 One Sunday morning our Pastor was talking about his decision to take on a position in a different church. The process to move or stay involved a lot prayer, but it also involved "leaning in " to the decision. It wasn't a quick yes and go, it was a process of elimination, checking out the options. At each step a decision was made and a new door opened or closed until eventually everything fit into place.
I never really thought about creating an art business, I just liked painting and making cards for people. In the summer of 2016, I took a watercolor workshop put on by Dave Becker. I had a wonderful time and learned more than I will be able to remember. During that workshop I was asking the other painters what did they do with all their paintings. Most of them worked for fun, some placed them in local galleries and some had websites, but not many were actively trying to sell their work.
I hadn't sold any of my paintings and I was beginning to have quite a few that looked pretty good. I had been creating Christmas cards for fifteen years. I also made cards of encouragement for friends. I would put a message on the back and people seemed to like these cards for both the painting and the message. Several people started asking if I sold them and I said they were just for fun, but it started my "leaning in" process.
I am still "leaning in", still trying to figure our how to start an art business. I am hoping to help others by writing down my process. I have been leaning since January 2017 and hope to have my business running with some income by my retirement in February of 2018. In future blogs I will tell you how I started my business and maybe you can help me get it going.
Thank you for visiting,
Nana Kate